CORPORATE ID
Please click above to view samples, then roll mouse over images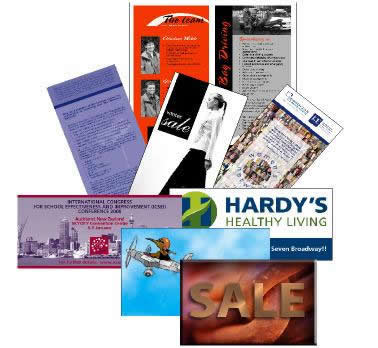 What is a print design?
Print design is the design of printed items such as business cards, letterheads, and stationery as well as brochures, flyers, postcards, banners, posters, invitations, booklets, newsletters, invoices, catalogues, journals, packaging… Print design is very different from web design as precise technical specifications are required to ensure that the work is printed correctly by the printer according to the method used (offset/digital/gang, etc.). These include correct file type, colour (cmyk/rgb/indexed/web), correct bleeds and crops, correct paper stock, etc. In addition, the limitations of print design need to be considered according to the medium. For example, newspapers commonly print at 85lpi which means far less detail can be included than in say a glossy magazine which prints at a much higher resolution.


Why does a business need a printed materials? What's the point?
It's a digital, paperless world! Not quite. To hold a solid product in your hand, whether a business card, a postcard, a letter, a catalogue, or a poetry book is very different to viewing it fleetingly on a computer screen. Printed materials are a constant reminder to clients about your business – that it is more than an idea; it is constant, exists in the real world and will not just vanish and change from one day to the next. Printed materials are like clothes for your business. They reflect your businesses values, personality and attitude . They are sensual and demand you use more than just your eyes. Touch the paper- its rough recycled texture, maybe its smooth luxury velvetiness; or the harsh woodiness of newsprint. Printed memories last.


What makes great print design?
Print design should be worth holding on to. It doesn't have to be ageless, but it has to work for as long as it is relevant. Artistic merit and copy aside, it's two-dimension design for a fixed-sized canvas. The eyes wander over the page drawn selectively to different elements each defined by their surrounding elements. These should explain and enhance one another.

So what are you looking for in great print design?:
• It should be suitably designed for its purpose. What looks good on screen/web, often does not translate well into print design. For example, colours are often vastly different.
• It should be correctly constructed to the printer's specifications – resolution, bleeds, file, fonts, links etc., or you will end up with an expensive disaster.
• It should be cost effective and printed using the most suitable production methods for the job.
• It should be printed on the suitable stock bearing in mind standard sizes of paper, size of item, use of item, distribution, budget.

And of course:
It should have an objective.
It should be attractive and informative -worth holding on to – desirable.
It should provide useful information and/or evoke a fitting emotional response.
It should be error free and edited to be as clear and concise as possible.
It should use only high quality images whether photographs or graphics.
It should use suitable fonts which reflect the content.
Print Design, the Environment and Sustainability
EYEDEAS® prefers to use suppliers who follow policy management systems that reduce the impact of the printing industry on the environment. This means
• using paper stocks from accredited well-managed forests and mills according to international guideines;
• using vegetable based inks containing less than one percent mineral oil;
• recycling waste paper.
Yvette at EYEDEAS®, can advise on different types of papers including recycled stocks. She has huge experience in creating and producing print design, working from concept to 'in-hand' so that unless you really want to organise and supervise production, Yvette will look after everything from the first concept until you are holding your printed item in your hands (with a huge smile on your face!) Yvette has worked with suppliers throughout NZ and overseas for many years and will advise on the best value printing methods and outcome according to the size of your print run, your budget, stock, quality, finishing, timetable and environmental print requirements. She is happy to pass on any specials that her suppliers may be offering at any time.


EYEDEAS © 2012